---
The Construction Training Centre provides a complete range of health and safety training courses, located in the South West.
The Construction Training Centre delivers a complete range of Site Safety Plus (SSP) Health and Safety courses. 
SSP provides the construction industry with a suite of health and safety courses for increased awareness and career development to help maintain a safe workforce.  
These health and safety courses are designed to give all levels of personnel from operative to senior manager the skills they need to progress through the industry.  
From the one-day Health and Safety Awareness (HSA) course, which also supports those requiring the knowledge to obtain their CSCS Labourer Card, to the five-day Site Management Safety Training Scheme (SMSTS), our courses provides the best possible training and qualifications. 
You may qualify for funding. Below shows the full commercial fee along with the potential funded rates (where applicable). To check your eligibility please apply using the links below.
---
Course title

Full Fee

Funded Fee

HS&E Test (CSCS)

N/A

SSP Health & Safety Awareness Course

Site Supervisors Safety Training Scheme (SSSTS)

SSSTS-R

N/A

Site Management Safety Training Scheme (SMSTS)


This course will develop your understanding of health, safety, welfare and environmental issues on construction sites.

SMSTS-R

N/A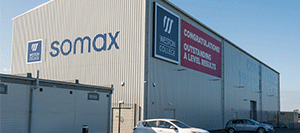 Investing in staff training ensures your workforce is more professional, productive, efficient and motivated. It also helps lower staff turnover, reduce recruitment costs and boost your business's image.
Each aspect of the Somax Construction Training Centre is purpose-built to deliver training in a specific industry area – plant operations, highways and groundworks, scaffolding, forklifting, and driver training. Whether you're upskilling your current workforce for a new project, or looking to provide compulsory training for new employees, we can deliver first class training to suit your needs.
All our courses are accredited by the appropriate industry governing bodies and schemes including CITB, CISRS, NPORS, ITSSAR, OCR and JAUPT.
Our centre boasts 6 classrooms, an ICT suite, CSCS testing facility, canteen and purpose-built practical training areas for a range of plant, scaffolding and driving courses.